Korg Nano Digital Music Controllers
Here's a nice bit of kit to take along with you on your next flight when you've just got to finish that next remix on the go. :)
Snip snip…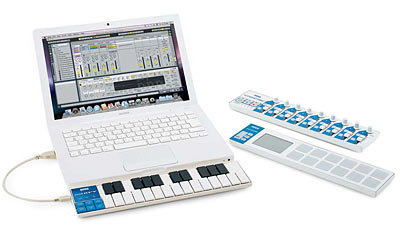 Now that the laptop has become the new desktop it's tempting to do everything on the go. But try composing or editing music while enjoying a latte at Starbucks and you'll find yourself seriously lacking in the tactile input department. There's a reason why musicians generally need racks of equipment at their disposal… you just cant play music so well with a keyboard and mouse. The new Korg Nano Digital Music Controllers aim to remedy this musical dilemma by providing three different portable USB versions of common musical input devices that fit perfectly with your laptop. The nanoKEY gives you a mini velocity sensitive keyboard. The nanoPAD provides you with velocity sensitive drum-pads and a Kaossilator style x-y control pad while the nanoKONTROL gives you nine faders, nine knobs and eighteen switches for your mixing pleasure.
Basically all three Nano Controllers are USB MIDI devices that can work with various music software that supports MIDI. The nanoKEY comes with a free download for Korgs nice M1 Le synthesizer software with some great classic Korg synth sounds. The nanoPAD has a free download for EZDrummer 1.14 to get you started with some rockin' beats and the nanoKONTROL gives you a $50 off coupon for Ableton Live music editing software.
Included with all of the models is Korg's Kontrol Editor software which allows you to customize the exact MIDI commands sent by each key, slider and button.
nanoKEY
* Keyboard: 25-key with velocity and 4 velocity curves
* CC MODE button
* Octave Shift up/down buttons
* Pitch up/down buttons
* Modulation button
* Dimensions: 320(W) x 83(D) x 14(H) mm/ 12.60"(W) x 3.27"(D) x 0.55"(H)
* Includes free download for Korg M1 Le Synthesizer software and Korg's Kontrol Editor software
nanoPAD
* 12 trigger pads with velocity and 4 velocity curves
* X-Y pad (Like the Kaossilator!)
* ROLL button
* FLAM button
* HOLD button
* 4 SCENE buttons (Allows 4 different MIDI configurations to be recalled instantly)
* Dimensions: 320(W) x 82(D) x 16.5(H) mm/ 12.60"(W) x 3.23"(D) x 00.65"(H)
* Includes free download for EZDrummer 1.14 software and Korg's Kontrol Editor software
nanoKONTROL
* 9 knobs
* 9 sliders
* 18 buttons
* Transport buttons: REW/PLAY/FF/LOOP/STOP/REC
* 4 SCENE buttons (Allows 4 different MIDI configurations to be recalled instantly)
* Dimensions: 320(W) x 82(D) x 29.5(H) mm/ 12.60"(W) x 3.23"(D) x 1.16"(H)
* Includes $50 off coupon for Ableton Live software and free download of Korg's Kontrol Editor software
PC Requirements
* Mac OS X 10.3.9, or Mac OS X 10.4.7 or later
* Microsoft Windows XP SP2 or later, or Microsoft Windows Vista SP1
* Available USB Port
via: thinkgeek