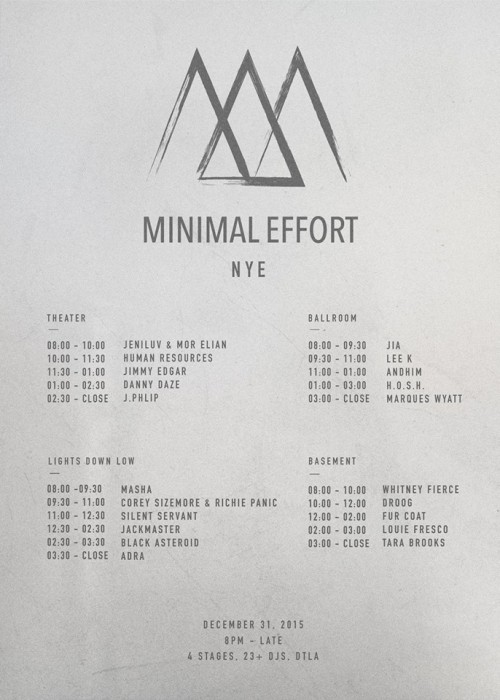 ATTN: Minimal Effort set times, arrival/departure info and more…
The doors open at 8pm. In order to avoid a rush at the door, and ensure everyone is inside for the NYE countdown, please, arrive early!
We will have complimentary coat check for everyone at the venue, so be sure to take advantage of that.
Pre-sale tickets are still available: bitly.com/NYEMinimalEffort, but LIMITED quantities remain. Purchase now while they last!
Next, if you are planning to attend the NYE Recovery Party on Jan. 1st with Carl Craig, Audiofly and Dance Spirit, please read this carefully:
Purchase of NYE tickets (GA/VIP) includes admission to the next day's Recovery Party. However, VIP ticket holders will receive express entry. YOU MUST keep your VIP wristband on. If you lose it, express entry is no longer valid.
GA ticket holders must arrive between 8pm to 10pm to receive free entry. Due to capacity of the venue, please head out to the Recovery Party as early as possible. The doors open at 8pm.This show will sell out and reach full capacity.