TechnoBox: Finally a Useable iPhone App for Making Music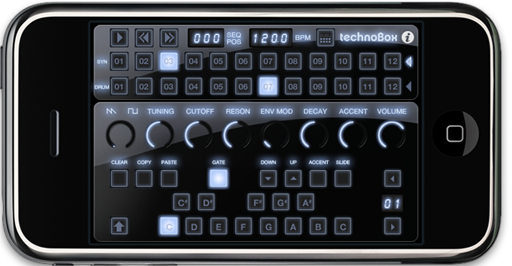 I recently heard about TechnoBox from AudioRealism for the iPhone and iPod Touch, and already being a fan of thier Bassline VST instrument I had to check it out. $10 for this app is a steal when compared to the price of a VST instrument or any music creation software for that matter. Compared to the price of most iPhone apps it is on the higher side but it's well worth it. Basically TechnoBox is similar to the old Rebirth program by Propellerheads but better sounding. I definitely see someone using this app in a live set, but you would have to deal with manually syncing it up. Definitely worth a look.
From the AudioRealism website:
TechnoBox is your virtual techno studio on the go for iPhone / iPod touch featuring stunningly accurate emulations of three classic boxes: The legendary 303 bass line machine together with the smooth 808 and punchy 909 drum machines. technoBox has easy to use sequencing capabilities which lets you tie together patterns, or use it live by improvising pattern switches on the fly!

Featuring the same high quality audio engine as ABL2 which was painstakingly optimized to be able to run on mobile devices. For the uninitiated our audio engine has aliasing free oscillators and full range non-linear filters.

The drum section features 11 parts with 808 or 909 sounds (for a total of 22 sounds) with variable amount of shuffle per pattern.

technoBox comes with a session manager which allows you to load/save sessions in realtime without stopping the internal sequencer — great for saving realtime improvised patterns without interrupting the audio stream.