First iPhone Musical Instrument – the Ocarina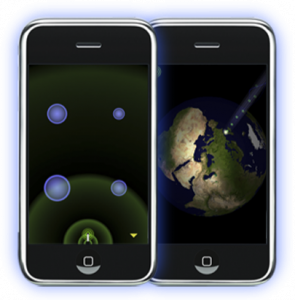 I'm not sure how well this instrument would work with a DJ or Live set, but it would be interesting to see someone do it!
The iPhone Ocarina from Smule is the first instrumental application that turns the iPhone into a unique musical instrument. The traditional ocarina is a member of a very old family of musical instruments, dating back at least 12,000 years, in China and Mesoamerica. The Smule iPhone Ocarina brings this millenia-old musical tradition into the 21st century.
Here's how it works. Once you've installed the application, hold the iPhone in such a way that you can conveniently press the four buttons while blowing into the microphone. That's right; it's a wind instrument.
The Smule ocarina website has lots of musical scores and instructional materials to get you started, as well as a forum to share what you've learned.
The instrument itself can be configured with any of eight different pitch modes (Ionian, Dorian, Phrygian, Lydian, Mixolydian, Aeolian, Locrian and Zeldarian).
Okay, maybe you're thinking that you can't do anything really significant with an iPhone music app. Well, think again; watch this Smule Ocarina video.
Smule Ocarina Playing Stairway to Heaven
And, if all that weren't great enough, the Smule Ocarina for the iPhone is the only web-enabled instrument in existence. Yes, that's right. The Smule Ocarina lets you, the creative artist, bypass not only the RIAA, but also iTunes, Napster and every other aggregator of music.
Here's how it works. If you enable sharing, the Smule will automatically broadcast your music, via the Internet, to any one else's Smule Ocarina.
You've got to try the Smule iPhone Ocarina. It's the closest you youngsters can get to feeling the groovy vibes emanating from the Star Trek episode The Way To Eden when it was first broadcast. This episode featured futuristic musical instruments (even Spock played!) that, while retrofuturistic, can't hold a candle to the Smule iPhone Ocarina.
Also check out their Vocal Pitch App and make yourself sound like Darth Vader in real-time!
via: Smule Ocarina.