Visuals: The Evolution of the Electronic Music Live Performance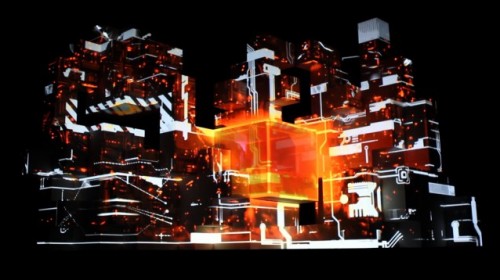 Seems everyone is rushing to get their live shows announced with some creative way of doing a video show to hide the fact that a one-man band just physically cannot be playing all of the instruments in a song live. With a few exceptions there haven't really been many Electronic Musicians that have put on good live shows, and the word "live" is generally used to indicate that the artist may be triggering patterns or muting and unmuting tracks on the fly but generally not actually playing any instruments live. Personally I have nothing against this, what else can really be expected of one person? One man standing in front a few pieces of equipment, generally with a laptop in tow, doing a "live" show seems to generate less excitement than a DJ behind a pair of decks playing other people's music.
The Solution
Stand in front of some mysterious piece of gear with lots of really cool looking synchronized 3D graphics and flashing lights to distract and hypnotize the crowd while bobbing your head to the music and moving your hands around like a conductor pushing buttons and occasionally pointing to the space above the crowd.

Underworld has always been one of the top Electronic Dance Music acts to put on a great live show. They always had the visuals provided by Tomato and an energetic vocalist jumping around the stage with a guitar.

Daft Punk pretty much set the stage for the current formula being used by many artists in the Electronic Music world with their Pyramid of lights and visuals. They also didn't really play an instruments live it was more like they were tour guides through a mash-up of their entire discography. Entertaining, no doubt.

Etienne de Crecy did in next with his Visual Cube, taking the same formula as Daft Punk and the anonymous equipment in front of him. Etienne recently released a compilation available on Dim Mak Records called Beats n' Cubes which contains some of the music from his show.

Then came Amon Tobin with Isam and the bar was raised. Incorporating perfectly synced 3D visuals projected onto a stack of boxes, Amon and his team created a show that has left people with their jaws on the floor. He's still touring if you can catch this show do it!

Then there is Daedelus with his wall of moving mirrors and lights "Archimedes" which is not quite as visually engaging but still cool looking nonetheless. It's obviously very hot having all of those lights right behind you sending heat rays right into your body.
A few others whose shows I have yet to see any video of is M.A.N.D.Y. from Get Phisical who are doing a premiere of their new visual show on October 15, 2011 at Electric Brixton in London, and Mark Knight from Toolroom Records debuting his Live performance "set to a Ground Breaking Visual Show" on October 1, 2011 at Toolroom Knights 5th Birthday at 02 Academy Brixton.
If you get video for either of these events or know of any other Electronic Music artists that are doing amazing things visually please post links in the comments.