A Club Called Rhonda Takes Over The Entire Standard Hotel DTLA For NYE With RHONDAPOLIS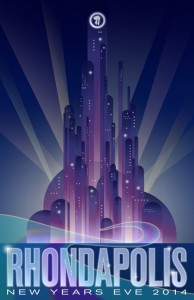 13 FLOORS, 4 UNIQUE DISCOTHEQUES, 1 WOMAN.
This New Year's holiday I present to you the first ever RHONDAPOLIS, a place where revelry knows no bounds. A city of light, a city of sound, a city of RHONDA.
On December 31st I am taking over the ENTIRE Standard Hotel in Downtown LA and claiming it for my polysexual party people.
Ring in the New Year with me and thousands of restless & ravishing revelers spanning THIRTEEN FLOORS with FOUR DISTINCT DISCOTHEQUES and 180 HOTEL ROOMS for you and your friends to get down and dirty in. Of course one night in party paradise is never enough, so I'm also preparing a follow up rooftop party for January 1st, FREE to all those RHONDAPOLIS ROOM RESIDENTS to cure their hangover with just the right hair of the dog. This will indeed be one for the ages.
Don't miss it, book your rooms NOW through December 16th with the special "RHONDA" room code to receive…
– Special rates starting from $295
– A special one night minimum stay policy
-A discounted $100 New Year's day stay rate
-AND TWO FREE TICKETS to RHONDAPOLIS & the recovery rooftop party.
Or if you'd rather just join the party but not stay the night you can purchase your tickets HERE now. There will be a limited amount of discounted pre-sale tickets available, so get 'em while they're hot.
TUESDAY, DECEMBER 31ST, 2013
WEDNESDAY, JANUARY 1ST, 2014.
THE STANDARD, DOWNTOWN LA
550 S. Flower St.
Los Angeles, CA 90071
8pm-LATE New Year's Eve
& 1pm-6pm New Year's Day
21 & over
BOOK A ROOM ONLINE HERE: http://bit.ly/2013RhondaNYE
OR CALL (866) 670-8686 & MENTION "RHONDA"
BUY TICKETS HERE: http://www.ticketfly.com/event/444449
(Limited amount of discount tickets available)